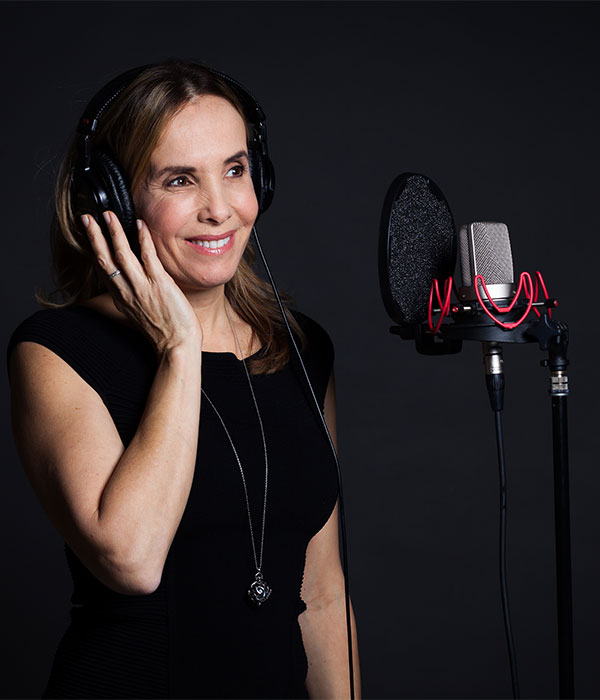 Hi – I'm Roxanne Jean, an authentic French Canadian Voice Over talent working for clients all over the world
I'm based in Montreal, Canada. I've been proving fast and reliable voice-over services to national clients in Canada and to international clients in the United States and Europe for over 25 years. As a narrator and voice-over artist, my distinctive voice, passion, versatility, vast experience and knowledge of the French-Canadian market make me the go-to expert for stellar French-Canadian voice-overs. No matter where you or your company are based, I can deliver broadcast-quality voice-over files in hours, not days! My talent, expertise and experience are what let me deliver on time, every time.
Bonjour – mon nom est Roxanne Jean et je suis une comédienne en voix hors champ de Montréal.
J'offre depuis plus de 25 ans des services de narration et de voix hors champ de qualité à de nombreux clients du Canada, des États-Unis et de l'Europe. Ma signature vocale, ma passion, ma polyvalence, mon expérience et ma connaissance approfondie du marché canadien-français font de moi une experte du domaine pour réaliser vos projets de voix hors champ en français. Je vous fournis des fichiers audio prêts pour diffusion en quelques heures à peine aux quatre coins du monde! Et c'est grâce à mon talent et à mon expertise que je peux m'engager fermement à respecter vos échéanciers.
Career highlights and fast facts
#1 voice for GPS systems in Canada

First French-Canadian voice for Siri on iPhone

Official and iconic voice of Maybelline New York for 14 years

One of Canada's longest-lasting voices in Canadian advertising

A pioneer in French Canadian voice overs for text-to-speech technology in Canada
A powerful voice at your service!
The reason Roxanne always delivers stellar French-Canadian voice-overs is that she truly enjoys helping clients find the perfect voice for their brand, whether it's in advertisements, training videos, various narrations or GPS systems. The moment Roxanne's clients first hear their brand voice, they realize the full impact a voice can have on their image as well as its role as a powerful tool by which to establish a connection with current and potential customers.